A lovely sandy child-friendly beach with clean seawater and sand dunes
The beach is located just 200 meters from Sirius House. It is very friendly and safe. There is a lifeguard during high season. Car park is near the beach and the closest train station is 1 km away. You can enjoy refreshments provided by a kiosk. Restrooms are also available. 
If you are into long walks, you can discover surroundings by walking along 1 kilometer long coastline. You will find small colorful fishermen's cottages, beautiful nature or you can dip in the sea along the way. Moreover, the sunset in Tisvildeje is magical.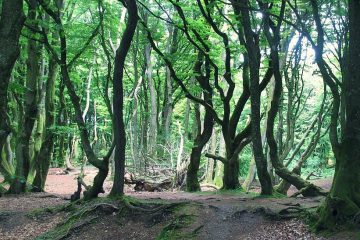 An amazing forrest with beautiful flora
Troldeskoven forest is a part of Tisvilde Hegn's western flank, populated by Scotch pine trees that are more than 100 years old. It takes only 15 minutes to reach it from Sirius House. This forest is an amazing place to refresh mind and relax. You can spend a whole day by hiking or you can take a bike ride. The forest has some nice spots for picnic.
When entering the forest, you might walk around a new nature playground. It is worthy to stop by and play with your children. It includes a ship with a racetrack and swings.
Northern Zealand is a kingdom for cyclists. Bicycle roads are developed across the whole area and allow you to enjoy stunning views. You can bike along the beach, in the forest and discover unknown beautiful places. Moreover, you can explore lakes, tiny coastal villages and gain unforgettable experience.
Inspiration for biking routes in Northern Zealand can be accessed here: